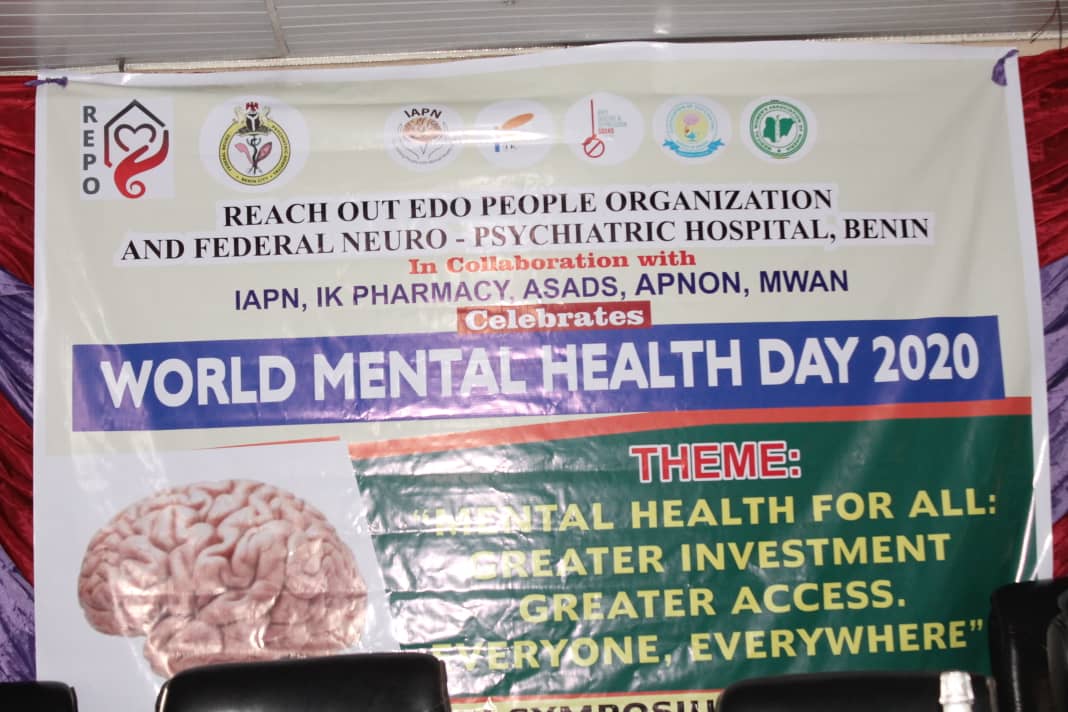 Federal Neuro-Psychiatric Hospital, Uselu, Benin City and the Reachout Edo People Organization (REPO) in collaboration with the International Association for Psychiatric Nurses (IAPN), Association of Psychiatric Nurses of Nigeria (APNON), Anti-Suicide and Depression Squad (ASADS), Medical Women's Association of Nigeria (MWAN), Friends of Uselu Clinic Community (FUCC), and IK Pharmacy joined the rest of the world to commemorate the World Mental Health Day (WMHD) which is celebrated worldwide on October 10 every year. The devastating impact of COVID-19 on access to mental health services underscored the urgent need for increased funding hence the theme of this year 'Mental Health for All: Greater Investment, Greater Access'.
The institutions marked the event by respectively organizing lectures on October 9 in the hospital conference hall at Uselu, Benin City, and a Road Show around major streets in Benin City on October 10 to enlighten Edo State residents on mental health awareness. In attendance were; the Chairman, Board of Directors Reachout Edo People Organization, Mr. Stevert A. Irabor represented by Mr. Eghosa C. Olaye; Coordinator International Association for Psychiatric Nurses, South-South, Mrs. Evelyn Osaro-Ohumu; Listener at ASADS, Founder of D_Sound Mind, Mental Health Advocate, Miss Peace Abhulimen; Director, Chima Foundation Schools, Benin City, Hon. Ifeanyichukwuka Isaiah Chuwuka, some heads of department, Staff, Students and members of the press, among others.
In his keynote address, the newly appointed Medical Director, Dr. I.O. Agbonile, who was represented by Dr. James Bawo, a Consultant Psychiatrist in the hospital welcomed everyone to the event and harped on the need to decisively invest in the promotion of mental health care in the wake of COVID-19 pandemic. According to him, "the COVID-19 pandemic has definitely altered or disrupted our way of life. Economic recession, social upheavals, and increased mortality from the virus, has accumulated staggering evidence that mental health problems are on the rise globally…Sadly, as a nation we are not immune from these adversities, and the evidence of increasing mental health problems are evident for all to see". He explained that in order to improve access to mental health care wholesomely, it must be effectively made available and services scaled up at the primary health care level through capacity building of health professionals. This corroborated the World Health Organisation (WHO) assertion that had on Monday 5th October, 2020, expressed concerns that "the pandemic was increasing demand for mental health services as deaths, isolation, loss of income and fear were triggering mental health conditions or exacerbating existing ones".
He further explained that though Nigeria has a developed sound health policy, there is however shortage of much investment, adding that the Federal Government has been consistent with emoluments for its skilled workforce, "we can then build on this by utilizing the capacity of this workforce by scaling up services at both the primary and secondary levels of care". He concluded that to improve access to more, there is need for investment which goes beyond funds to include investment in time, volunteerism, expertise and engagement with relevant authorities.
During her presentation, Mrs. Veronica Otabor, emphasized the need for all including health care providers to invest their finances, energy and time in treating their clients stating that adequate public investment in health would reduces financial impoverishment of clients.
Hon. Ifeanyichukwu Isaiah Chukwuka, the Director of Chima Foundation Schools, Benin City admonished both Government and Non-Governmental Organizations to collaborate in sanitizing citizens on the need to care for themselves. Governments at different levels are to subside treatment for mental health as in other medical conditions. Mental health educations should also be taught in all school levels, while also employing and empowering more Psychologists and Psychiatrists.
On her part, Miss Peace Abhulimen described mental health as an integral part of health as there is no health without mental health. With reference to the definition of Mental Health by the WHO, mental health is a situation whereby an individual is able to realize his or her abilities, cope with the normal cases of life, and make a contribution to his or her own community. According to her, "mental health illness is defined as a health problem that significantly affects the way a person thinks, feels, behaves and interacts with other people". She highlighted the possible causes of mental health illness to include: "Traumatic experiences, Genetic makeup, Brain chemistry and Family history of mental illness", and added that the most common type of mental illness are Anxiety disorders and Depression.
Having been enlightened by the lecture, some members of staff and Students Nurses of the hospital on October 10 went on a tour around the Uselu, Ugbowo, and King Square environs to educate members of the public on mental health.